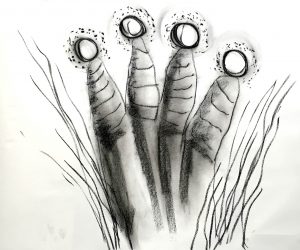 Drawing into Creative Wholeness–meditation and visual expression as a spiritual practice.
Begun in 1986, Drawing into Creative Wholeness is an on-going meditation and visual expression workshop meeting once a week with a small group of participants to explore and express a dialogue with their creative inner selves. In semi-darkness, we sit and work on the floor and that enables us to use large arm movements while expressing our journeys in silence with charcoal on large sheets of paper right after meditating.
If you are familiar with Julia Cameron's writing pages presented in her book, The Artists Way or you've read Natalie Goldberg's, Writing Down the Bones, you understand there are techniques that aim to build a relationship between self and higher Self. There are many pathways to the heart, Drawing into Creative Wholeness is one of them. The meditation puts us in a place of receptivity and heightened awareness. The drawings become symbols of our journey to later translate into artwork, writings, or simply keep as a reminder of the experience. The discussions and stories we share with others about our drawings enables us to join the positive energy the group offers and come to a place of trust with our inner world and how we express ourselves to others. This weekly drawing practice is held in my beautiful spacious studio that provides an environment for the unconditional support needed for inner growth and enables us to gather the courage to reach beyond where we are now or think we are capable of going.
"When I know who I am,
When I value who I am,
When I trust who I am,
I can give freely to others
All that I am—
and my journey into wholeness
will have begun."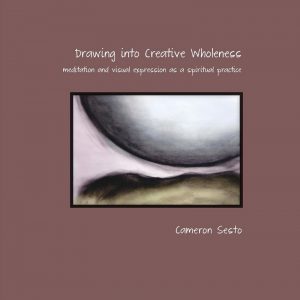 Drawing Into Creative Wholeness: meditation and visual expression as a spiritual practice
Cameron Sesto; 2014
8.5  x  8.5 inches
68 color pages; paperback
Look inside or purchase now at Amazon.com
$16.99