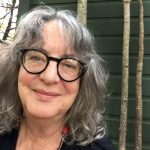 I am an artist and retired Montessori art teacher currently facilitating my meditation and visual expression workshops in my studio and at other venues on the North Shore of Massachusetts.
I live near the ocean with my artist husband Carl Sesto, and I've been involved in the fine arts all my adult life. We have four children and nine very creative grandchildren. Teaching art to children, and meditation with visual expression to adults, has given me great joy and I look forward to learning and sharing new ideas for many years to come.
I hold a Photography degree from the Rochester Institute of Technology and I enjoy working in a variety of media that include photography, oil painting, writing and design. Here are a few highlights from my artistic adventures:
Photographic Group Shows include:
The Octave of Prayer and Celebrations at the Hayden Gallery of MIT, curated by Minor White. These exhibitions became Aperture Monographs.
The Shamanic Search for Soul, at Harbor Gallery/ University of Massachusetts, Boston, MA.
Boundaries Inside/Outside, Stebbing Gallery, Cambridge, MA.
One person shows include:
Earth And Spirit, Eventide Gallery, Essex, MA.
Language of the Soul, at the Fire House Center for the Arts in Newburyport, MA.
New Work, at The Beginners' Mind Gallery, Deer Isle, ME.
Publications:
Arts Around Boston, Healing Within: how art soothes the body and heals the soul, Spring, 2000.
Artsnorth, Cover award winner, Spring, Volume three 1997.
Books:
2014 —Drawing into Creative Wholeness. Self published, written and illustrated by Cameron Sesto.
2012 —The Learner – Directed Classroom, Developing Creative Thinking Skills Through Art, edited by Diane B. Jaquith and Nan E. Hathaway: Chapter 5, Building a Strong Voice of Inner Authority in a Montessori Choice-Based Art Program by Cameron Sesto.
2008 —Sticks: building ideas and self-confidence in the Montessori Lower Elementary art room by Cameron Sesto. Cameron's observations reveal how biology and psychology meet and are strengthened through the artistic behavior of children ages 6 to 9. Sticks is illustrated with full color photographs by the author.
2002—Wisdom Bowls, by Meredith Young-Sowers, with introduction by Caroline Myss. Illustrations by Cameron Sesto, published by Stillpoint Publishing, Walpole, NH.
1999—One End Open: a compilation of prose, poetry, and paintings by Cameron Sesto originating from her workshop Drawing into Creative Wholeness that combines meditation and visual expression. Limited edition of 40 books, hardbound in a clam-shell case. Only a few remain.
Reviewed: Holistic Times, October 2000.
1989—Simply Great: a cooking instruction manual for teachers of non-readers by Cameron Sesto. I developed this visual method of teaching cooking while working with the intellectually disabled workers at Opportunity Works in Newburyport, MA. Published by MDC University of Wisconsin and the Center for Independent Living.
Reviewed: Boston Globe, October 1990